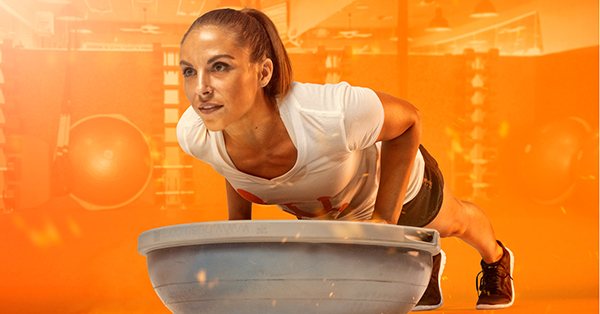 We're addicted to Orangetheory Fitness—and proud! But what is it about the workout and the atmosphere that we love so much? And how has Orangetheory changed the lives of so many when other workouts fail? There's more than one reason we can't get enough of the Orange Zone. Read on—we've got the scoop.
Whether sporting an Orangetheory splat-shaped bumper sticker or showing off a new Orangetheory Fitness hoodie, members are loud and proud to be a part of the OTF nation. Orangetheory member experience goes beyond just being members of a gym. We're part of something bigger—members of a fitness family.
There's an unspoken acknowledgement, a nod of approval, when we see people repping the orange. "Oh, I know that workout. Yeah, it's good." No need to explain it to them. They get it.
Anyone who's part of our family here at Orangetheory Fitness in Clermont, FL, knows it's tough. We constantly push ourselves beyond our comfort zone to reach our goals. Are we sore the next day? Yes. But it's the one workout that can always keep us coming back for more.
So why do we love it so much? And how would you explain it to someone who isn't part of the fit fam? You can call it fun and say it's like no other gym or fitness program, but sometimes it's hard to put your finger on exactly what it is that makes the workout so irresistible and addictive.
In a recent
Entreprenuer Magazine
article, Charlotte Blank, Executive Director of The Maritz Institute, takes a crack at it. The Maritz Institute is a research and design network that studies human behavior to provide business solutions. Driven to understand how Orangetheory Fitness's ability to evoke positive emotions has catapulted the fitness franchise to the nationwide sensation it has become today, Blank takes a closer look at the ways the workout leverages human behavior using psychological drivers. In other words, how does it draw us in on a subconscious level, and why are the fit-aholics of Orangetheory so addicted?
Blank's article highlights 3 ways Orangetheory has taken fitness from "dreaded chore" to "amusing game."
1.
Orangetheory Fitness makes working out a game.

The heart-rate monitoring component of the workout shows your results on TV screens throughout the studio. This means you can keep an eye not only on how hard you're pushing yourself during the workout—but how others are doing as well.
Who will get the most Splat Points? Will you get more Splat Points than last time? Will you get enough Splat Point to "unlock" 36 hours of after-burn? As you know, you rack up Splat Points by spending time in the optimal calorie-burning heart rate zone. What you may not know is that Splat Points indirectly take your mind off how challenging the workout is and shift your focus to earning more points.
As if the colorful heart-rate monitors and Splat Points aren't enough, there are also year-round weight loss challenges, marathons, and even philanthropic fitness events, including a recent effort in which Orangetheory Fitness raised more than $2 million for ALS.
2.
Orangetheory Fitness anchors your workout to a higher purpose.
Walk into any Orangetheory studio and check out what's written by members and trainers on the glass walls. From "I burn for wine" to "I burn for a better body," the Orangetheory Fitness family identifies and shares what we're working toward. It keeps us focused on our purpose and goals.
From Orangetheory shirts that remind you to "Work for it!" to trainers and staff who constantly give their all to keep members motivated, the entire Orangetheory Fitness experience provides a constant reminder of what you set out to do.
3.
Orangetheory Fitness has successfully created a "fit fam."
The sense of community among OTF Nation taps into our human need to belong. Not only is OTF swag fun to wear; it's fun to see. Something about being able to recognize a fellow member—a fellow insider—outside the studio gives us a "HELL YEAH!" moment. The fit, the few, the Orange. It's like a secret club that's not a secret. Anyone can join and anyone can do it, but it takes a certain will power to make that lifestyle choice to better yourself for good.
Our Orangetheory Fitness Clermont fit fam wouldn't be the same without you. We love being able to call this our home and to see smiling, familiar faces working toward a common goal.
You're not the only one keeping an eye on your Splat Points to see if you win. We're here to keep you motivated and achieving your fitness goals.
Did you miss the Entrepreneur article? Check out the full story
here
.
Ready to play? Sign up now:
http://bit.ly/2mPqtA6